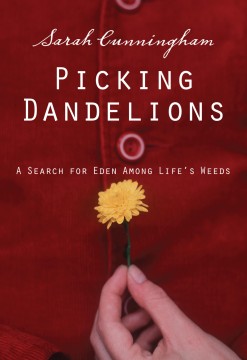 A couple of weeks ago I "met"
author
Sarah Cunningham
via e-mail as she prepared for
the release of her brand-new book -- which hits shelves today
-- entitled
Picking Dandelions: A Search for Eden Among Life's Weeds
(I know it's not very masculine for me to be using the phrase "picking dandelions," I honestly
did
pick dandelions as a kid, and by golly, it rocked.)

The tagline of the book is "A warm and witty spiritual memoir set in the midwest."

While this makes me think of Donald Miller, I get the direct impression that Cunningham's work will be more focused on God throughout. This is not to say that I'm dogging Donald Miller for not talking about God in every sentence, by the way.
When she told me about her new book I thought I'd better read what she'd written before, because
I'm too picky when it comes to books
. I'm in the Thomas Nelson blogger review club thingy, but I disliked the last book so much that I still haven't read it and therefore haven't reviewed it. Funny thing is, I love to read bad game reviews in
Game Informer
magazine. I love those reviews so much that I rarely read the good ones. You'd think, then, that I would enjoy writing a negative review about a book. I don't.
At any rate, I bought her previous book,
Dear Ch
urch: Letters from a Disillusioned Generation, for iPhone Kindle and although I'm only about 1/4 of the way into the book, I love it. I believe it's a book that every church leader should read, and I also believe that everyone who has general distaste for the stereotypical personality of the average twenty-something should read it.
To stop my digression from the main point, I shall conclude.
Sarah Cunningham's
new book comes out today, and if her previous work is any indication of what to expect in the new one,
I'm seriously looking forward to reading it.