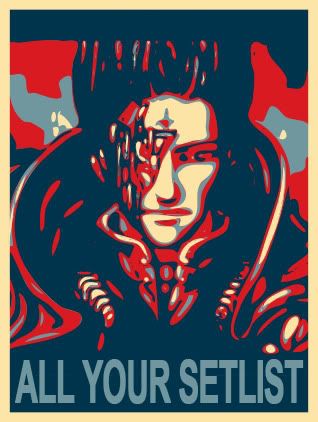 Welcome to Wall Highway's entry into Fred McKinnon's Sunday Setlists, week 49.
Our team today:
Nelson Lusk (my son!) on drums
Anna on keyboard and piano
Cameron on bass
Callie on vocals
Jordan on vocals
Phillip on vocals
Eric on acoustic guitar
Me on electric guitar and vocals
Today, I think the thing that stuck out most to me was not the music, but the message that our senior pastor, Lee Singley brought. I'm going to be posting a link to the podcast as soon as it's up. It was aimed right at the heart of the Church; no holds barred. Just what was needed.
Here's the worship team and choir contribution to corporate worship at Wall Highway today. I intentionally shortened the music service to allow Pastor Lee a little more time than usual, but the music still ran almost the same length as usual. Not sure how that happened. I was glad we weren't watching the clock today.
Worthy of Praises
(Lynn Deshazo) -
key of D
- We've done this one for three Sundays to teach it to the congregation. Have a look at Revelation 4 and then sing this song. Beautiful and awe-inspiring.
At this point in the service our Jr. High pastor, Josh Harris, welcomed everyone. One of the announcements he made was for a play we're doing in September and having auditions for next week.
Here's the promo video we showed today
.
Your Grace Is Enough
(Matt Maher) -
key of E
- In retrospect, I wish we'd played/sung this one in G. The key of E is widely singable, but I think that the energy of having it three half-steps higher would have allowed the message and emotion of the lyrics to come through more powerfully.
How Great is Our God / How Great Thou Art
(Chris Tomlin / Stuart K Hine) -
key of G
- for so long I was against using this combo of songs, simply because everyone did it. Kinda narrow-minded of me. These two songs are so powerful because they allow us to speak about the creative power and majesty of the God who allows us to serve Him.
I left the services today extremely uplifted; it was one of those mornings where God rewarded our worship and love for Him by touching us in return.