Welcome to the EGBDF entry for
Sunday Setlists Blog Carnival -- Week 33
. Thanks to
Fred McKinnon
! New banner is in the works. Excited about that! If I can find the time, I'm going to try to have a new one each week.
Also, this week's photo of our featured hymn author is extra-fun. Read below.
Before the humor, I've been thinking quite a bit about how we church people, and worship leaders and teams specifically, say that we are not playing music or doing anything in order to provide entertainment. However, in my case (and if you think about it, it may be yours, too), I feel like we're not really proving that with our actions. For one, we have a carefully-scripted order of events: "You just take a seat and see what we've got for you to consume this week!" We're pretty careful to keep with the scheduled flow. This is typically done to grab the attention of the "audience" first, then keep it held by how the songs are arranged, where the videos come in, how the sermon is presented, etc.
I'm not at all suggesting we move to chaos for the sake of bucking some system, but it's time for me to be rethinking why we do what we do. For that reason, our orders of service have been going a little backward from what may seem typical. We're beginning with announcements that the whole fellowship needs to hear -- they take this chance to assemble once a week and it's the perfect time to communicate it -- and then we move to songs of meditation, repentance, confession, and focus on just Who it is that we're collectively focusing on. (In a nutshell, that'd be God.)
Our music progresses into the Word of God, delivered in the senior pastor's message, and then on to another song of commitment, then ending with songs of praise or celebration.
Here's what that looked like this (and musically fairly "classic") week:
I Surrender All
(Public Domain) -
key of D
- We played this one instrumentally. Tom, our youth pastor, read Scripture and invited the congregation to pray before beginning to sing or worship together. I think we use this song too much. It's one of those that, if you don't mean exactly what you're singing, then you're singing a lie. (By the way, I link here to Israel Houghton's rendition, which I love. We did not play it this way. We were musically more meditative than groove-oriented.)
(By the way, is anyone out there doing the Dave Lubben song "
Surrender
"? Just thought about that song; haven't heard it in years, but I love the way the music conveys the words:
joyfully running
to surrender everything.)
Knowing You (All I Once Held Dear)
-
key of D
- Our soprano this week, Vilera Mills, beautifully rendered the first verse, with my wife, Callie, coming in on alto on the first chorus. This song is a musical rendering and basic exposition of Philippians 3:13-14, the passage that Pastor Lee would speak about later in the service.
Come, Now is the Time to Worship
(Brian Doerksen) -
key of D/E
- Having sung the first two songs,
now
was the time to worship. We played it way fast due to my rocket-speed intro during the first service.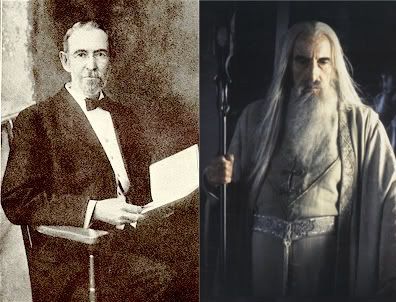 Higher Ground
(Public Domain -- this week's odd photo: Johnson Oatman looks like Sauruman to me: "
We will die for Johnson Oatman!!
") -
key of G
- One of my favoriter traditional songs; a prayer asking God to keep our feet firmly planted on the high ground. Our version has an intro that feels like a a variation on
The Who
's "Teenage Wasteland," but without the cool synth part.
Following the message, we repeated "Knowing You" during the time of response and commitment. Then we closed with...
Everyday
(
which really ought to be called "Every Day"
) (Joel Houston) - key of A - Even for those who are familiar with it and know all the words, the verses are a mouthful. I love this. :) Although Joel Houston wrote the song and is a Hillsong artist, I like Jason Breland's rendition far more.