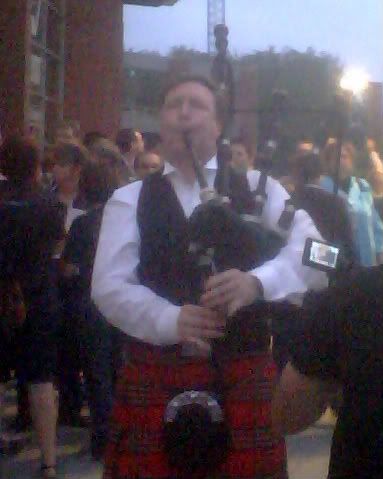 Beginning day two... (BTW, looks like you really need to go here -- TonyMorgan LIVE.com -- if you want Catalyst wrap-ups)

The gentleman at the right was outside to entertain the people who'd gathered at the door waiting to get in. Awesome. And he didn't pull any contemporary music stunts, trying to make them all bagpipey. Good, traditional bagpiping.

Yesterday, oddly, one of my favorite speakers was Seth Godin, whom I'd anticipated not really liking a whole lot. From what I gather, Mr. Godin is not a Christ-follower, so his time speaking was a geared mostly toward universal human nature. Very, very interesting. Catalyst received an advance copy of his new book, Tribes, which was the subject of his discussion yesterday and is to be released on Obtober 16.

Craig Groeschel wrapped up the day's events yesterday, with a really, really heavily-convicting, blunt time speaking to pastors and church leaders who have lost "it." What's "it"?? In a nutshell, I'd say it's their passion for Jesus Christ and the replacement of that love with a consumption with ministry work. The sacrifice of family on the altar of ministry (which, I believe, was a quote from Andy Stanley). Hard-hitting. Tough. Good. Much-needed.

Gotta run. Sounds like we're starting!